New Forums
Wednesday, January 10, 2018
I added forums to our
Rust website
a while back. The idea was that if I got the foundations of a forums implemented and being used, it could be incrementally improved over time into something that is better than our current vBulletin forums. vBulletin is pretty standard when it comes to forums. Or it was, 10 years ago. I don't know if they still update it, but our version is feeling pretty old.. missing a ton of features that you'd want as standard in a modern forum. So here's some of those features.
Passwordless
No signup forms, just use Google/Facebook (Twitter/Steam/Etc coming soon).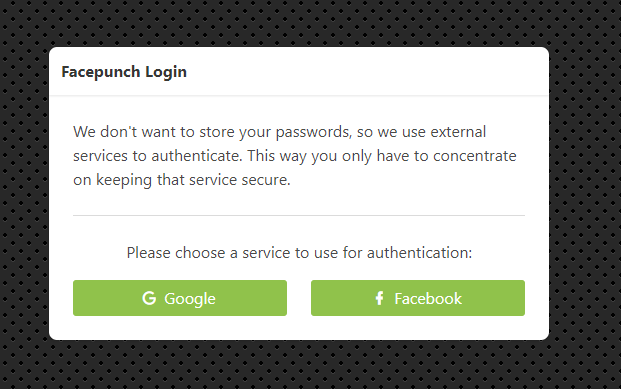 Post Editor
WYSIWYG editor. Has keyboard shortcuts for most stuff. Uses a customised version of 
Quill
, so the post's json should be much more easily parsed than bbcode. https://files.facepunch.com/garry/2018/01/06/%202018-01-06%2021-01-59-994.mp4
File Uploads
If you view a thread from a couple of years ago the one thing you'll notice is that most of the images and videos are broken. It seems kind of fucked that in 2018 people are having to upload their shit to another service to post it on the forums. File uploads are limited to 128mb, aren't limited to any file types, and support drag and dropping onto the post.
Following & Notifications
In the old forums people "followed" threads by viewing them and then not marking them as unread. Now we have the ability to follow forums and threads.


You'll get notifications via email, and they'll show on the site when there's new activity.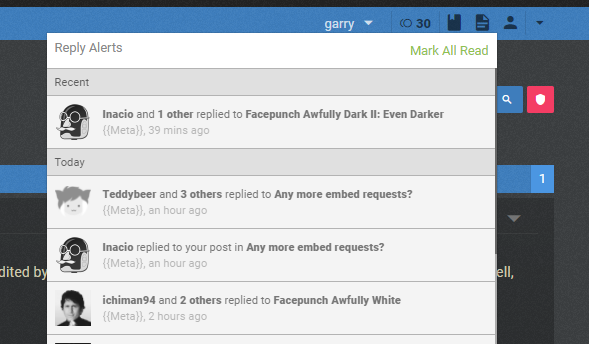 Search that isn't shit
For a long time search in forums has been treated like a new thing, rather than a normal thing. It would be kind of hidden, hard to use and a single search regularly take 10+ seconds. Things have moved on and search can be used a lot more casually now. So an example of this is being able to
link to search results
. Because searching is that fast that it's no problem. And finding what you want is even easier. Want to view all my posts from December in the Unity Forum?
Easy
. All those posts where I said the word yellow?
Just as easy
.
Levels
The current forums are gamified. People don't realise it, but they are. The post date and post count showing under your avatar are your xp. The people on the forums are very protective of those things. So lets formalize that with levels. They show next to everyone's name.


Your level increases by using the forum. But they have caps, so you can't just come in and spam a million posts and be level 20 by the end of your first day.. The aim is to level up based on the user's activeness. You can hover over a level to see the progress to the next one.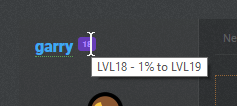 I believe this is a much better metric at evaluating forum seniority than showing join date and post count.
Currency
Ratings are great, but wouldn't it be great if we had a currency that we could accrue and give to each other as a reward for good posts etc. That's what coins are.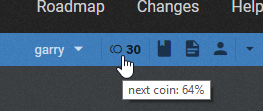 You can give your coins to posts you like, in the same way the regular ratings work. The coin gives them one coin, the diamond gives them 10 coins.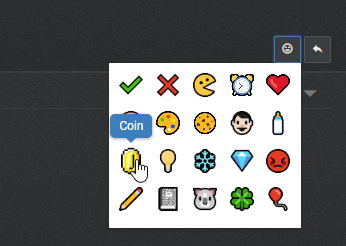 You can't have a currency without a way to spend them. So to start this we have a coin shop. All you can do right now is increase your maximum avatar size.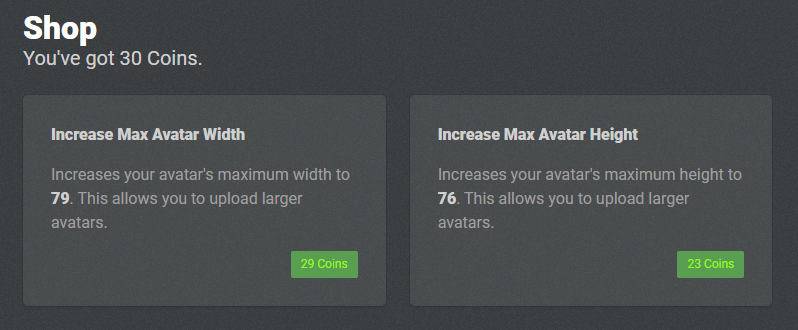 We've got some ideas of what we want to do with coins though. You can see
some of them on the roadmap
.
Design
The design is pretty contentious. I don't love it, and it'll probably change. It was expected that people don't really like design changes though, so I added a feature that lets you have custom css. Some guys are
already putting it to good use
.
Future
The new forum isn't perfect. You could argue that it's not even a functioning forum yet. But it's a foundation for us to build on over time. So I hope that the old timers from the old forums will give it a try, point out things they do and don't like and help us get there - or just quietly drift off to 4chan.  
Turn your phone to view blog list